Contactless payments are on the rise.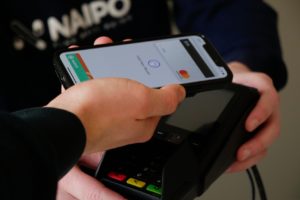 The popularity of contactless payments like tap and go, Apple Pay®, Google Pay®, and a host of other mobile wallets is hard to ignore. Contactless payments grew 29% in 2020, and at least One Study Suggests that 70 percent of all transactions will be contactless in a few years.Consumers around the world have been quick to adopt it with the U.S. becoming the second largest market for contactless payments. Mercator Advisory Group research confirms that U.S. consumers are adopting technologies, especially amongst younger generations (Gen Z and Millennials), where 50% of people utilize technologies, such as tap to pay, mobile wallets or retailer specific mobile applications. As a result of the industry changes, eMarketer reports that not only has mobile wallet usage increased, the average annual spend per user is increasing, as well. Businesses with low transaction values and high volumes have noticed the most demand.
Payments Go Contactless
If your business doesn't yet accept tap and go credit cards, or Apple Pay transactions or other mobile wallets, you might consider it as a payment option.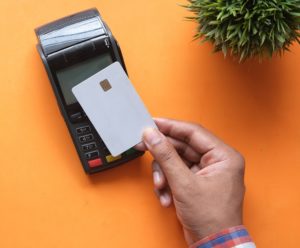 Credit card companies (Issuing Banks) started rolling out cards with RFID technology a few years ago. With this technology, card information is transmitted wirelessly to the POS terminal. With a contactless card, your customers can quickly pay for their purchases, all they have to do is tap their card or hold their phones over the terminal to complete the transaction. Your customers don't have to wait for the receipt to print so they can sign. They don't even need to enter a PIN, which saves plenty of time when they enter it wrong or can't remember their number. It also cuts down on contact between the customer, the terminal and the you, the Merchant. This means it's much faster for them to pay and much faster. No more waiting around to sign the receipt or punching in their PIN, increasing the speed of transactions. The reduction in processing time can improve your employees' productivity. They may be able to serve more customers.
Most of All; We've already touched on a few of the advantages of contactless payments for your business above, but the biggest one is how easy it makes a payment. Improving customer satisfaction. Using contactless gets your customers out the door and back to their busy day sooner. It also means they don't need to wait for the terminal to print a receipt, and having to sign the receipt.
Reducing Fraud and Improving Security
Another major advantage of a tap credit card transaction is the improvement to security. The card never has to leave the customer's hand, which means it's less likely to be stolen or lost. Your cashier doesn't have to remember to hand it back at the end of the transaction. Most cards use chip technology designed to increase security. This makes it more difficult to steal their information, even during a transaction. Also, in an age of pandemics it reduces the need for the customer or the cashier to pass the card back and forth. It also greatly reduces the possibility of the business getting a charge-back by utilizing the chip technology in the card.
Compliance and Fees
Contactless payments also help you maintain PCI compliance. Most cards use technology that meets or exceed the standards set out by the Payment Card Industry's Security Standards. There are no additional fees or increased rates for a merchant who accepts contactless payments. If you accept credit card payments, adding contactless options is easy. All you need is the right credit card terminal or PIN Pad. Most new terminals accept contactless payments..
Contactless is the Way of the Future
Consumers around the world are embracing contactless payments, and Apple Pay® users are emphatic about using their devices. The number of payments completed with tap and pay credit cards is going to continue growing at a rapid rate. Is your business ready to get on board with the new payment wave? If so, talk to us. Our team of experts can help you find the right hardware to make contactless payment a reality for you.
Open your Veritrans Merchant Account today!
For a fast, easy quote on accepting card payments go to our Quick Quote page.
Already have an account somewhere else? Call Veritrans for a free and confidential analysis of your current contract and fees or share your statement on our Quick Quote page. We'll help you understand your cost better and walk you through some cost–effective processing solutions. From eliminating fees, lower rates, and proper pricing methods, you will finally understand what the fees that you see every month mean, and will have a clear and concise picture of what it takes to lower your cost of accepting credit card payments.
Call 1-866-474-4144 Opt #2 today for your FREE consultation. We're here to help you grow your business.