Clover ® Point of Sale System
The Clover

®

Family: Clover POS is one of the most popular POS systems on the market today, and with good reason.
Built by First Data, the worlds largest processor, Clover POS system was designed to meet the needs of Merchants that want the ability to run their business smoother, and easier. Accept all forms of payments, including chip cards, contact-less, checks, as well as setting up gift and loyalty cards. It couldn't be easier or more affordable. With Clover's line of products, you can customize your setup from the checkout counter to in-store mobile/wireless to take payments anywhere you need to be.
Clover Station Duo Point of Sale
The all-in-one complete Clover POS system that comes with a cash drawer and receipt printer. No extra costs.
Large, versatile display
The 14″ high-definition makes your work fast and easy, from inventory and employee management to payments and reporting.
Custom orders done right
Create custom orders quickly and accurately. Adjust a menu item, add or remove optional ingredients and modifiers, and automatically update the order total.
Speed, power, reliability
Clover Station packs plenty of processing power to help you run your business faster: update inventory, manage your staff, take orders, and pull reports. Now with an even faster CPU and more RAM.
Multi-layered security
The Clover Station gives you fingerprint login for enhanced employee security and end-to-end encryption of every transaction to help protect your data—yours as well as your customers'.
The Clover Station Solo point of sale


Clover Station Solo is a one-screen alternative to the two-screen Station Duo
Supports Wi-Fi, Ethernet, and LTE connection
Clover Station Solo does NOT support tethering of a Mini, Flex, or NFC printer.
Optional proprietary charging cable for a Flex.
Clover Station Solo includes a P500 printer for receipts
Cash Drawer Included.
Clover Flex® Mobile Point of Sale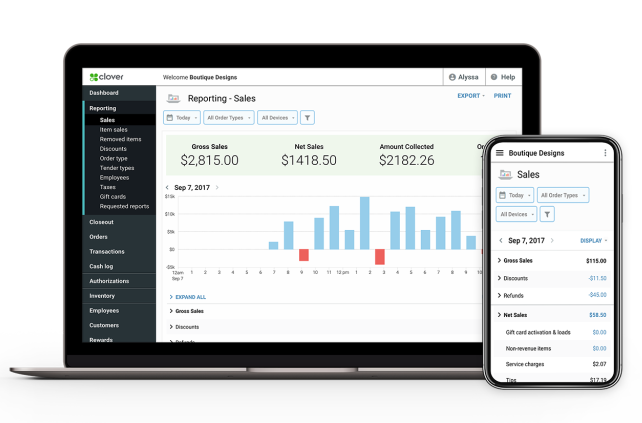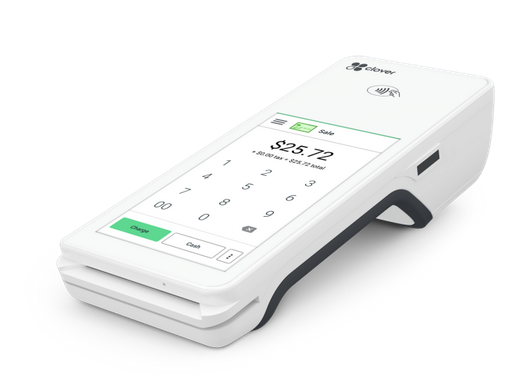 Accept all payment types With this wireless gem, you can let your customers pay how they want to pay. Swipe, dip, and tap. Magstripe, chip cards, and NFC payments like Apple Pay and Samsung Pay.
Get deposits fast and easy – Funds are automatically transferred to your bank account as fast as the next business day.
All-in-one system – Replace your register, bulky terminal, and printer. A single, compact device is all you need to ring people up. It also syncs with Clover POS allow you to bust lines or go mobile in your business.
Track your business – Monitor your sales, refunds, and best-selling items from any computer or mobile device.
Robust inventory support – Categories, labels, modifiers and variants let you add information like color or size to keep your inventory organized, and make exchanges even easier.
Key sales information – Log in any time for info at a glance. See how sales are going up to the hour or compare your daily totals against the last week.
Custom-branded gift cards – Attract new customers and retain old ones with custom-branded gift cards.
Keep your customer list in order – Manage your patron's contact info as well as their marketing preferences, so you can engage with them how they prefer.
Turn customers into repeat customers – Create a fun, effective loyalty program within minutes—absolutely free, no strings attached.
The all-in-one Clover® POS Mini
Retail
Built for speed with every swipe, dip and tap — and lets you stay connected even when you don't have WiFi. High resolution 7" touch screen, WiFi and Ethernet connectivity, Receipt printer built-in, Camera and barcode scanner built-in.
Features include:
Inventory Management: Set up items, categories, and modifiers; move or transfer orders; add items to partially paid orders
Bundled Apps: Orders, Register, Promos, Rewards, Employees, Reporting, and others
Discounts: Apply discounts at the order level
Taxes: Set up and automatically apply taxes at the item level
Payments: Contactless and traditional payments, paperless receipts, and offline payment mode
Reporting: Track sales with item-level reporting
Employee Management: Set up employee logins and access permissions
Security: $100,000 liability protection against data breaches
Support: 24×7 support
Restaurant
The bar & restaurant POS that's small enough to fit into any space, but powerful enough to run the full house, front to back. The Clover POS Mini comes preloaded with Clover Dining, custom-designed for restaurants. Build dynamic floor plans, move orders instantly, and manage your entire waitstaff. Compatible with handheld Flex, kitchen printer, and other accessories that make running your business faster.
Features include:

Floor Plans: Build dynamic floor plans that match your layout
Pre-auth: Pre-authorize bar tabs
Bundled Apps: Bar Tab Auths, Tips, Shifts, Discounts, Happy Hour
Orders: Set up order types and categories; move or transfer orders; fire orders directly to kitchen or prep stations; add items to partially paid orders
Discounts: Apply discounts at the order level
Taxes & Service Charges: Set up and automatically apply taxes at the item level; apply service charges to large parties
Payments: Split checks in any proportion
Reporting: Run reports per revenue center (patio vs bar)
Employee Management: Set up employee logins and access permissions
Security: $100,000 liability protection against data breaches
Support: 24×7 support
Clover Go® Mobile Point of Sale
Open your Veritrans Merchant Account today!
Our

Program guarantees same–day application processing. Most setups take less than 24 hours for approval.
Already have an account somewhere else? Call Veritrans for a free and confidential analysis of your current contract and fees. If you would like to speed things up, upload you credit card processing statement here. We'll walk you through some cost–effective credit card processing service solutions by eliminating fees, lowering rates, and proper pricing methods. You will have a clear and concise picture of what it takes to lower your cost of accepting credit card payments.
Call 1-866-474-4144 Opt #2 today for your FREE consultation. We're here to help you grow your business.