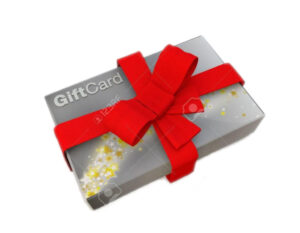 Gift Cards & Loyalty Cards

Gift & Loyalty Card
s

are not just cards.

They truly do gift you new customers and increase the loyalty of your existing customers, all the while increasing sales and bringing new customers to your business. In 2020 Gift cards more than doubled in sales. Gift cards have grown year after year, and in 2020, 48% intended to buy gift cards for the Holiday season. Consumers were expected to spend 40% of their holiday gift budget on gift cards in 2020. Beyond the cash injection, gift cards also offer retailers useful customer data and can ultimately increase the total amount a customer spends with them, potentially giving the struggling retail sector a jump start as 2021 begins. In 2021, eCommerce is expected to account for a record 18.9% of total holiday season retail sales showing this trend will continue to grow. You can set up with cards on display, or e-gift cards and loyalty cards where customers use their device, or both.

While very easy to set up, they are also rewarding customers
Keep them coming back for more. Whether you opt for plastic cards which continue to remain popular, and/or e-gift cards which are rapidly growing due to their convenience of use, you will also be increasing your name recognition.
Gift and loyalty cards also offer businesses a great marketing tool
Ability to notify customers of coming sales events or current products on sale through text or email. Today's gift card programs allow merchants to track sales, and most businesses find that unused cards far outweigh the cost of the program.
There are tons of options when setting up, from generic to custom artwork cards. You maintain flexibility in your hardware with multiple devices to issue and redeem cards. Whether it's a credit card terminal, POS system, or most Android devices, you can quickly issue cards wherever you are.
Benefits of using a Gift Card Program
Whether it's physical cards or e-gift cards, customers are able to conveniently use them as gifts for any occasion from the holidays,
birthdays, or even just because. There are benefits for the merchants as well.
• Increase revenue by having consumers prepay for services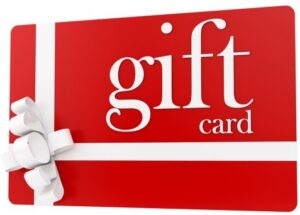 • Up to 15% of gift cards go un-redeemed and the additional profit goes to
the merchant
• Promote impulse purchasing and additional sales
• Improve brand awareness within the community
• Real time online reporting is provided to merchants and their consumers
• Security features reduce fraud and duplicate usage
• Easy reporting systems and no need to batch out saves time
• Fast transactions and ease of use at the point of sale
• Always know how much money is outstanding and what types of activities were processed
• Gift cards make the perfect employee incentive
• Issue gift cards or e-gift cards instead of cashback refunds like some of the big box stores
• Easily assign user privileges for all employees within a location
• Merchants with multiple locations can use the same program at all locations with the ability to have all the revenue pooled into a central account.
Veritrans has partnered with Factor 4
Let us help you get started to see what you're missing in sales.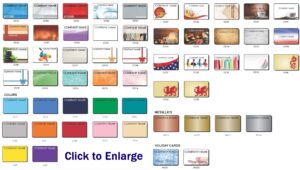 The starter kit is just $99.00, and sets you up with 100 cards, presenters, displays and signage.
Choose 1 of these standard designs. Package price includes coding, custom text on back, and Merchants name on front.
Have your own Artwork, or would like a custom card? Give us a call, and we can help you design the card that's a perfect fit for your style.
Looking for an easy Mobile Solution?
As a Merchant, your white labeled gift card app will be branded with your logo and colors.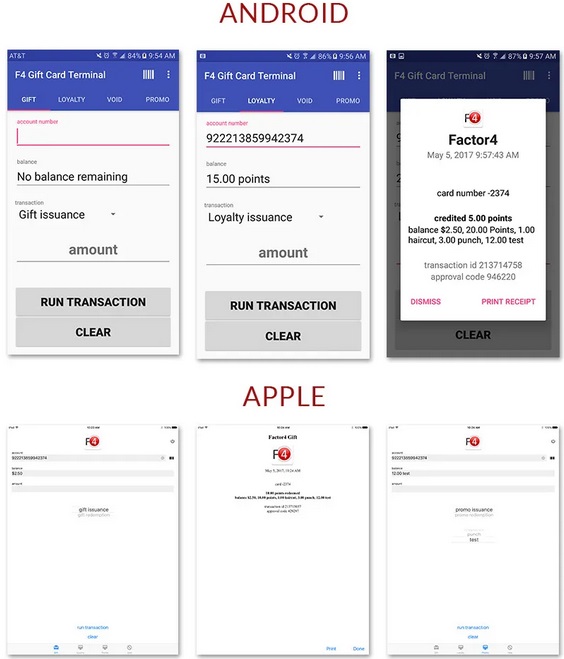 Merchant Benefits

App branded for each business

Omnichannel Solution

Lower Transaction Fees

Customer Benefits

Pay by Phone

Add Value & Check Balance

Seamless Checkout
Once approved, it will be loaded in the Apple Store and the Google Play store. Each Merchant will then have a free mobile app that their customers can download for free.
Your app ties into your existing in-store gift card program so you have an omnichannel solution. One program on all platforms In-store / Online / Mobile – All in one, Factor 4.
If you're looking for a fast, and easy way to increase sales, you really should give Gift & loyalty cards a try. You'll see right away all the benefits, while giving customers something they can share with friends and family. Give us a call at 866-474-4144 Opt 2 for more information. Setup is fast, and delivery only takes a couple of days.