Online Terminals aka Virtual Terminals
Online Terminals aka Virtual Terminals are probably the most underrated means of accepting credit card payments. Countertop terminals we're all used to cost around $200 – $250, and up, and Wireless Terminals run around $550 and up plus the monthly cost of a data plan like your mobile phone. An Online Terminal cost $5 – $10 per month, and most do have a transaction fee as well. Some give you 200+ free credit card transactions monthly, then charge $.05 – $.10 per transaction after that.
In Comparison
With an Online Terminal, you always have access to processing a credit card payment no matter where you are as long as you have access to the internet, be it your phone, laptop, tablet, or desktop computer. Although most new countertop terminals have Wi-Fi access, you're still limited to a power supply, or wall plug. Wireless terminals are nice, but come with a greater cost. They, like any electronic device has a life span of usually 3-5 years. Most all new terminals, countertop or wireless have options now to add apps for anything from managing employee hours, inventory, or email-text marketing, usually at an additional cost. This is where the comparison of countertop or wireless, vs. online terminals end.
The List is Long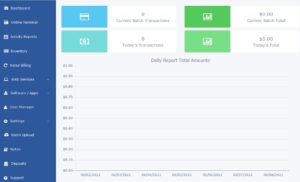 With the monthly subscription cost of an Online Terminal that's less than the cost of Netflix®, you can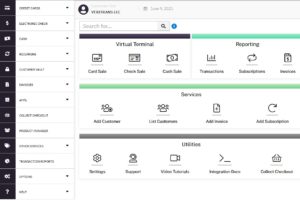 easily process cards by keying in card information into a web browser, mobile app, or using a Bluetooth card reader for lower cost. Online terminals not only allow you to be mobile, in-store or on the road, but they also come with a long list of features in what the industry calls the Back Office. The list of features is long (See Pictures), but some are rerunning a card on file for customer convenience, email invoicing so a customer can pay either through the email or a link in the email. Automatic recurring charges if you have a monthly membership subscription, or just want to allow the customer to make payments to ease the cost of a product. Text marketing to your regular customers to let them know of current or coming events. Downloading all your transactions by week, month, year for accounting purposes, saving time and money. You can even run transactions in Quickbooks® with lower rates from Veritrans. Depending on what you're looking for, there's most likely an Online Terminal that does exactly what you would like it to do, and more. You can also use the same Online Terminal account for connecting to a website for E-Commerce sales in addition to your face to face transactions, having all your card sales in one place. You can also use a mobile reader for events and trade shows. If you have more than 1 business, or Multiple Merchant Accounts, you can tie all your card payments into one online terminal.
These Days, Security is Everything
Online, or Virtual Terminals are PCI DSS Compliant, just as a countertop or wireless terminal. You're not storing any of your customer's card information in your browser, and all transactions are encrypted end to end. You can even control the security features for your certain needs by adding additional restrictions, or additional encryption for your transactions. Whereas a countertop or wireless terminal takes occasional calling into tech support for software updates to continue working, and stay secure, an Online Terminal does that for you. You have enough on your mind running your business.
The List is Getting Longer
We see a new Online Terminal about once or twice a year, and not all are apples to apples. Whereas some will give certain features included in your monthly subscription, others charge for those same features while offering other features at no cost. So depending on which ones you're looking for, Veritrans can help you keep your cost down by setting you up with an Online terminal that might include the features you need with no additional cost or a lower cost.
Want to See More?
If you would like to test drive a demo, or have an idea of what you would like to see in an Online Terminal, let us know. We'll set you up with a demo according to the features you would like to see, and you can test it for ease of use all you like.
Already have an account somewhere else? Call Veritrans for a free and confidential analysis of your current contract and fees. We'll help you understand your contract better and walk you through some cost–effective card processing services solutions. From eliminating fees, lower rates, and proper pricing methods, you will finally understand what the fees that you see every month mean, and will have a clear and concise picture of what it takes to lower your cost of accepting credit card payments.
Call us for a free and confidential analysis of your current contract and fees – 1-866-474-4144 Opt #2 We'll show you the savings in detail. We're here to help you grow your business.