Countertop Credit Card Terminals
The Most Up-To-Date Terminals for Speed & Security
Veritrans offers a full range of standalone EMV® (chip card) capable credit card terminals to meet the unique needs of retailers, restaurants, and other industries. All of our currently available terminals allow you to securely accept all EMV® and magstripe major credit cards and debit cards. Protect your business and the credit cards of your customers by ensuring you have PCI compliant terminals that can read the Chip Cards. Veritrans takes great pride in our commitment to partnering with you for your success.
Our Most Popular Stand Alone Terminals
The PAX A80 touchscreen countertop terminal is, in one word: Awesome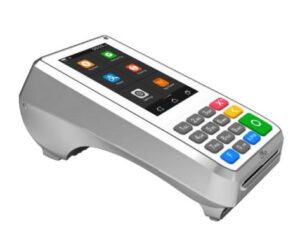 A80, the most cost-effective in the A-series is a powerful, game-changing countertop credit card terminal. Powered by Android OS, the A80 leverages a world of Android-based apps to get you more for your business, and always run at peak performance. Full connectivity means the A80 is a reliable workhorse that will process payments safely and fast, even during the busiest hours.
Fast, Secure, Attractive, and Wi-Fi Ready
Packed with the latest PCI PTS 5.x, SRED, and NFC contactless
certifications, A80 delivers the highest payment security and protects transaction privacy. Equipped with a built-in camera, high definition 4-inch touchscreen display, and multiple network connectivity options. The PAX A80 credit card terminal is wi-fi ready, and can be used anywhere in your business, without the need or risk of unsightly cables.
Verifone V200C is Bringing new commerce capabilities to merchants of all sizes.
More Options, More Speed, More Loyal Customers.
Incredible performance wrapped in an elegant design, the v200c is a versatile POS with engagement possibilities that far exceed the competition. From stream lining business operations to offering loyalty rewards, merchants can easily customize the POS with innovative apps. The V200c is Verifone's most affordable, and feature rich credit card terminal available.
The V200c boasts a powerful processor
Quicker downloads and operations, more memory to support commerce apps. Interact with consumers like never before by offering individualized loyalty rewards and discounts, personalized content, the ability to pay with points, and more. Plus, it accepts all the latest payment types, as well as a faster printer speed.
Protect Your Business, Protect Your Customers
The V200c incorporates best-in-class security with end-to-end encryption and tokenization to safeguard sensitive information. Plus, it's EMV-ready and fully compliant with PCI 5.X requirements.
First Data Point-of-Sale (POS) Credit Card Terminal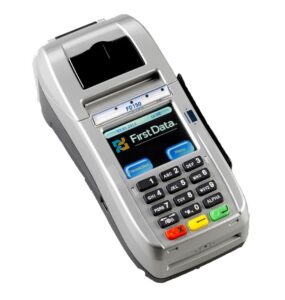 Allows you to accept the widest variety of payments quickly, easily, and securely.
You benefit from built-in technology designed to make managing payments easier, safer, and smarter.
Enjoy peace of mind from the advanced fraud protection and security features built into all of our credit card terminals
Experience easy Internet Wi-Fi set-up for using your existing broadband connection.
Help simplify your business and increase revenue with dependable, user-friendly, and affordable POS systems
The next generation of FD Series devices is an affordable POS terminal solution that combines performance, reliability, and ease of use in a compact, feature-rich device. It offers faster processing, expanded memory, and a familiar look and user interface. The FD150 gives you a full range of solutions for payment processing including EMV, contactless, debit cards, gift cards and EBT secured with PCI compliance level 5 protection.
Each manufacturer above has a complete line of countertop terminals. The above are the most popular we sell. If you have a specific terminal preference, let us know. Depending on the type of business you have, we may suggest a different option than the above.