Verifone's VX-520, A Reliable, Rugged Countertop Device Built to Last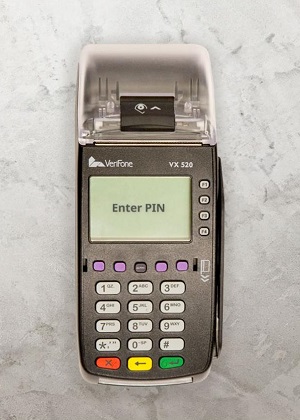 Investment protection
The VX 520 delivers performance, reliability and long-lasting functionality.
Increase productivity
Faster checkout speeds allow you to complete more transactions and get consumers on their way more quickly.
Purposeful design
The countertop unit is designed for easy use and includes a backlit screen and keypad for all lighting situations.
THE VX 520 IS EVERYTHING a countertop device should be. Delivering unprecedented performance, lighting-fast speeds, and uncompromised security, this power-packed payment device works hard so you don't have to.
The VX 520 comes with the choice of dial-up or ethernet connectivity, as well as an optional battery. A comm port area underneath the device keeps countertops free of clutter.
The VX 520 operates at lightning speed thanks to a powerful processor and expandable memory. Integrated NFC/CTLS capabilities support alternative payments, as well as apps for loyalty programs and gift cards.

Call 866-474-4144 Opt. 2 or email us at info@veritransllc.com today for your free consultation.