Finding The Right Tablet POS System For You
Below are some of the newest Tablet style POS Systems. Tablet POS Systems do the same thing as the older style POS Systems, but at a fraction of the cost. No one POS Systems suits everyone's needs, as some are geared more towards retail, and some favor restaurant type setups. Some are feature rich, and some just try to keep it simple with the basics. Let us help you find the one that suits your needs best, and fits your budget.
The Clover Family of POS Systems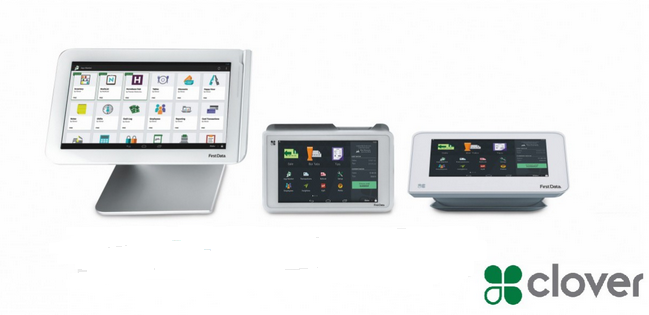 The Clover Station is one of the best retail POS systems available. From tracking inventory, to keeping track of employees sales, and hours. Know what your customers like most, and what sells least. The Clover Station also has to ability to add Apps from the Clover App Market to do just about anything you need that's not already included in the Clover Station. Gift & Loyalty Cards, Email and Text Promotions to Customers, Customer Surveys, the list is endless, as new apps are added constantly. The Clover Station has the ability to accept EMV® Chip Cards for protection against fraud.
The Clover Mobile allows you to take payments at the table, shorten customer lines, or if you're on the go, take payments when and where you need to. The Clover Mobile also has a ton of apps for additional features you might need as you grow. Inventory, Customer Discounts, Tracking Tables, and Employee Schedules. The Clover Go is the one to beat when it comes to accepting cards wherever you might be. You can also enjoy the additional fraud protection of accepting EMV® Chip cards with the Clover Mobile.
Last, but not least, The Clover Mini is small but powerful. It offers you all the basics of a POS with the ability to add apps as you grow. From inventory to tracking customer sales, employee hours, loyalty cards, all while knowing you're protected with the Clover systems built in fraud protection.






Adelo Touch POS

Adelo Touch is a feature rich Tablet POS mainly geared towards Restaurants, and Bars. With unlimited menus, items, routing, discounts, prices, modifiers & much more, everything you need is there. Adelo Touch can run simple Restaurant and Bar operations, or complex large table service, or even quick service. Adelo Touch has it covered.
Adelo is extremely easy to learn as you go. It's simple to set up, and there are no setup cost. You can download the Adelo Touch app with a free 30 day trial. Tech Support is 24/7, so help is always just a call away.
You can also add stations to the Adelo POS so you can run transactions at the table, not have to run back to the main station each time. Adelo also continues to run if your internet goes down, and will sync once it's back up. So no missed sales, no inconvenience to your customers.



These are just 3 of the Tablet POS Systems we like, but there are many more. If you've seen one you're interested in, let us know.
Talk to a Specialist
Get the answers you need before you buy. Call 1-866-474-4144 Opt. 2 today to talk with a knowledgeable customer service representative.