FD (First Data) Terminals – FD130/FD200
FD 130 Countertop Terminal

The First Data™ FD130 terminal combines performance, reliability and ease of use in a compact, feature-rich device. With new security guidelines coming soon, the FD130 enables merchants to accept transactions when a customer presents them with an EMV® chip card; that is, a card embedded with a special chip that adds an important layer of security.
Features
Compact design
Windows CE 6.0; speedy ARM9 400Mhz CPU
Processing capabilities for ATM, debit, electronic benefits transfer (EBT) transactions and check payments
Fast printer capable of 15 lines per second
IP connectivity with dial-up as a backup and Wi-Fi as an additional option
Durable keys
Touch-screen capability with 320×240 color display
Contactless support
64 MB RAM standard memory
Three USB ports
Batch history
2.25-inch-wide thermal roll printer
Ability to accept EMV® chip transactions
FD 200ti Countertop Terminal with Check Imaging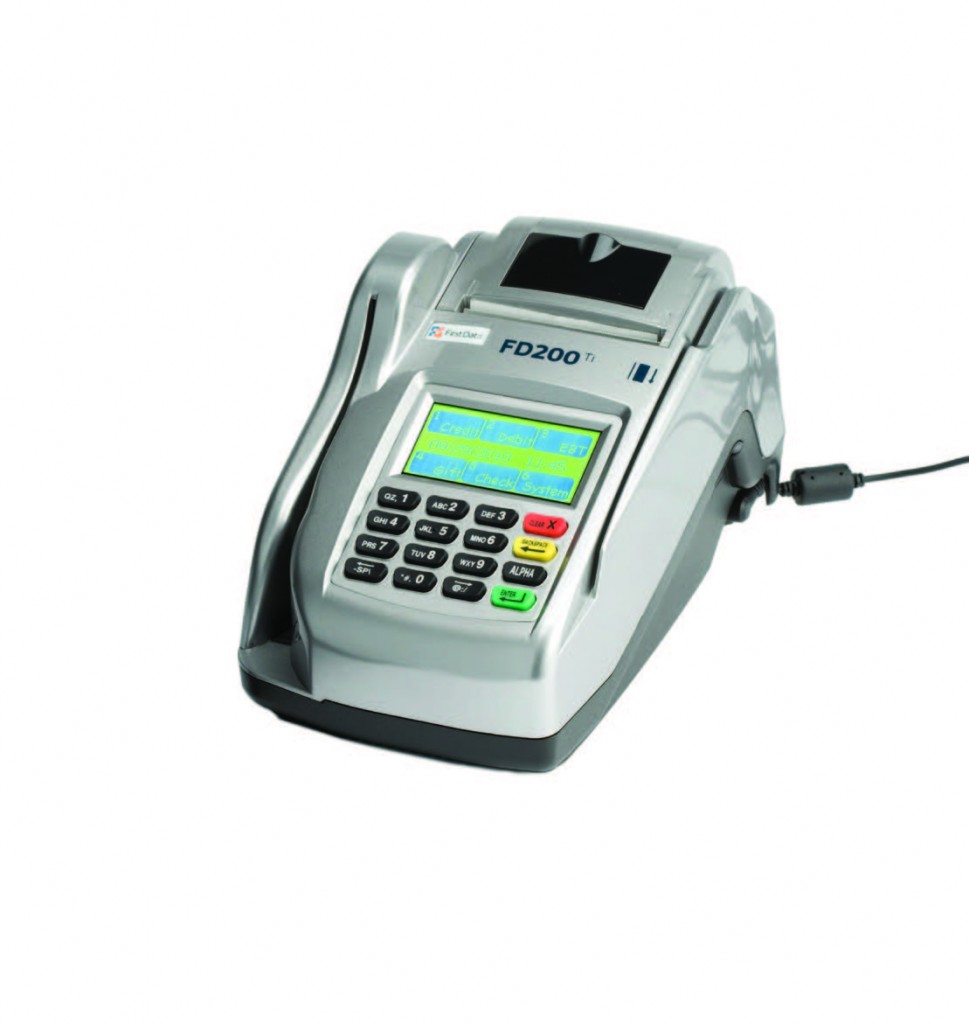 The First Data™ FD200Ti terminal features a built-in check reader and imager that processes checks through the TeleCheck Electronic Check Acceptance® (ECA®) service, which verifies a customer's checking history and, as an option, offers a warranty service. In addition to lowering a merchant's risk, customers' personal information is protected, too, because the checks are returned to them after scanning. For the busy merchant, this also eliminates the need for time-consuming trips to the bank to deposit paper checks.
The FD200Ti terminal saves on valuable counter space, because a combination inkjet/thermal printer is also built into the unit for an all-in-one design. The inkjet printer is dedicated to voiding checks, helping to speed transactions and conserve ink. The easy-to-load thermal printer generates receipts that include only the last four card numbers, a safeguard that helps thwart fraud.
Features
IP and dial-up connectivity, with Wi-Fi as an option
Intuitive 128 X 64 LCD touch-screen
True 32-bit processing (ARM 929T CPU core)
Integrated check reader/imager
64 MB RAM standard memory
Talk to a Specialist
Get the answers you need before you buy. Call 1-866-474-4144 Opt. 2 today to talk with a knowledgeable customer service representative.