Magtek USB Magstripe Reader for PCs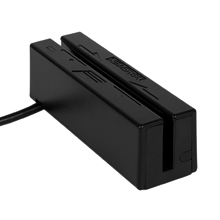 If the perfect fit you desire requires swiped rates using an online terminal, this mini Magstripe Reader is your solution. The Magstripe reader provides complete conformance with USB standards, requires 50% less space than full-size readers and requires no external power source.  Simply plug it into any available USB port on your desktop or laptop computer, and new hardware will be automatically detected.
Extended functionality and great value in a tiny package
Small enough to fit in the palm of your hand
Easily portable to the jobsite, customer's business, or any location where you need to process credit card payments
Reads card information when swiped in either direction
Easily converts to an office environment terminal when plugged into desktop computer; can also neatly mount swiper to computer or desk area using velcro strips
Optimize your eProcessing online terminal using the magswiper to autofill the required data fields
Eliminate key entry card errors allowing the magnetic stripe to conveniently and quickly transfer the data
Talk to a Specialist
Get the answers you need before you buy. Call 1-866-474-4144 today to talk with a knowledgeable customer service representative.