Where Can You Go With a Bluetooth Card Reader?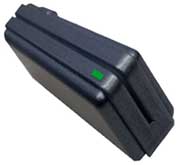 With a Bluetooth credit card reader;
You can securely accept payments from customers anywhere you go. The Card Reader uses the latest Bluetooth technology to enable communication with your PC, or Cell Phone, to let you enjoy the flexibility of portable payment processing.
The Mobile Reader is ideal for mobile merchants who are on the go and don't have the ability to transport a large credit card machine and Point of Sale terminal.
With this Bluetooth credit card reader, you can:
• Accept payments anywhere you go—No matter where you go as a mobile merchant, you'll be able to easily accept credit card and debit card payments with the Mobile Reader. Its Bluetooth interface can let you process transactions through your PC, or Cell Phone.
• Ensure transaction security—With enhanced security features, the Mobile Reader ensures card data protection and total transaction security. It also offers instant card authentication to detect counterfeit or altered cards.
• Enjoy simple portability—The Mobile Reader is small enough to fit in the palm of your hand, making it easy to take with you wherever you go. But don't be fooled by its size. This credit card reader is durable enough to withstand real world use.
Are you ready to enjoy the flexibility and portability that mobile transactions deliver?
Contact us today to learn more about this Bluetooth and Blackberry credit card reader.